Mail order is a great way to get access to many plants that are not available to you in your own local area.
Wallis Creek Watergarden sends plants through the mail for much of the year. For true water plants like water lilies and lotus it is best to order in the warmer part of the year, from late August to February, for best results. For other plants check availability on the website or contact us for the rarer plants or bulk orders of any one plant type. Bare rooted plants  are trimmed and packed to travel through the mail to you. They are sent as either moist wrapped in newspaper or bare rooted plants, tubers and corms moist wrapped in coco peat. We choose the best method for your individual plant and time of year. For either  type of pack method  they are  then placed in zip lock bags and boxed up to send. All plants are sent with their own how to grow leaflets which outline cultivation instructions. Plants are labeled and where they  are available also have pictorial or text tags  included with individual, detailed growing recommendations.
When you receive your Mail Order Plant delivery –
Carefully open the box or express parcel. Your cultivation notes will be on the outside of the box,   along with any individual tags. Inside you will find your plants in plastic bags.
For moist newspaper wrapped bare rooted plants –
Open the zip lock bag as soon as you can. If you can't pot it straight away leave the open bag in a shady draft free area until you are ready.
Gently remove the plant from the bag, remove any rubber bands then gently unfold the newspaper and remove. If the roots are dry moisten them before planting out.
Pot up or out quickly  and don't allow the plant to dry out while working. If necessary cover the plant with moist newspaper or cloth especially in hot or dry and windy conditions.
Pot the plant then water in well. Bare rooted plants are root and leaf trimmed to minimize transplant stress and allow them to bounce back quickly to produce good  healthy plants.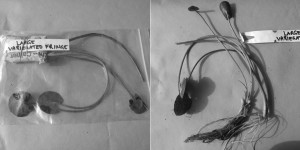 Bare rooted plants, tubers or corms in coco peat –
Open the zip lock bag when you get your plants. Place the contents on a flat surface. Then remove any rubber bands gently. Open the newspaper, gently ease coco peat away from the plant material.
Gently wash away any coco peat still clinging to the plant so you can see the size and shape of your plants. Work quickly and don't allow the plant to dry before potting- covering if necessary.
Follow your detailed 'how to grow' instructions, watering well before immersing or moving to a new position.

Ongoing care –
New plants need a little more attention . If potted, or in the garden, remember to water regularly till obvious new growth shows they have settled in.
For good ongoing results find out more about your plants, keep and read your tags and 'How to Grow' notes, consult the web site at www.walliscreekwatergarden.com.au or Google the plant name for all sorts of info.
Also remember you can also us at info@walliscreekwatergarden.com.au or phone on 02 49380230 for advice.
Happy water gardening.
– Wallis Creek Watergarden