If you are a customer or otherwise in our region, or just passing through we strongly recommend that you drop by our nursery in person for a visit.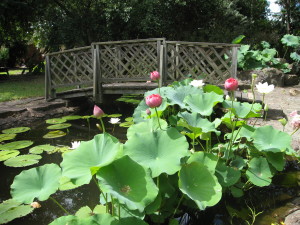 You can find us very easily and we are open most days.
We pride ourselves in our mail order range and plant quality, but there are many advantages to visiting our site for both the dedicated customer and casual guest.
Benefits Of Visiting The Nursery Include –
Advanced Potted Plants
Our mail order plants are sold bare rooted while at the nursery our plants are sold as advanced potted plants. They are larger, more established and stronger.
Also as potted plants you can take them directly home and put them into your pond or garden immediately without any additional work or materials.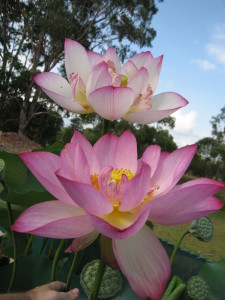 A Larger Range of Plants
Our mail order range is large and extensive but we have even more plants available at the nursery some of which are not even listed on the web site.
Plants which are rare, new, which we can only keep limited stock of, or which are simply not suited to mail order can only be bought directly at the nursery.
Plants only available at the gardens include collections of Orchids and Carnivorous Plants.
Longer Seasonal Availability
Seasonal availability of many plants, especially the popular Lotus, is significantly longer at our nursery compared to mail order.
While only available for a few months mail order in between dormancy and becoming too large for the mail Lotus is available all through Summer and into Autumn as advanced potted plants at our nursery.
Similarly we sell many plants for extended seasons or even all year round at the nursery.
Fish
During the warmer seasons we also sell native rainbow fish suitable for use as frog friendly native mosquito eating predators for outdoor ponds in our region. We recommend you ring in advance for fish as we sometimes will have to catch them for you.
The nursery includes extensive ornamental gardens with many examples of pond landscaping, water plants and many other interesting plants.
You can explore the gardens and the nursery yourself and see all the plants we have on display and the way we grow them.
The Gallery
The nursery includes a small gallery with works by local artists and various water lily and lotus related products.
Through the gardens you will also find various ornamental sculptures and other works n display.
Even More Information
We strive to answer your questions by phone or email, but we can always provide you with more information, and show you many examples, if you visit and talk to us directly.