The advantages of planting lilies and water plants in woven bags-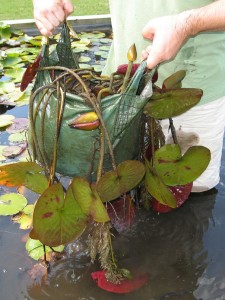 Woven bags for planting water plants are versatile and useful for ponds and watergardens.
The bags are a robust woven product with sewn handles for ease of movement.
They fold down to a small size so they can be sent to you by mail.
They have a 20 liter volume capacity.
Using the woven bags gives you-
* a larger capacity of soil than the average pot size.
* handles for easy in moving
* ability to adapt bag base to sloping or uneven pond bases
* the bag can be folded down to gave a wide shallow planting base to gives lilies more root run space in shallow ponds but still have the necessary space above the crown for the lily to grow well.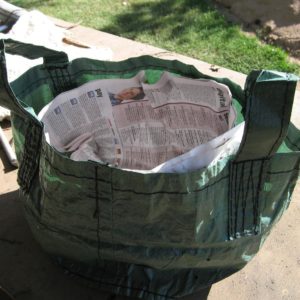 Using your woven bag –
Line the bag with a double sheet of newspaper to retain the soil in the bag till the plant can bind it. Two thirds fill with fed water plant soil. Place roots into this then top with unfed soil.
Gently lower into water letting air escape slowly then use handles to'float' the bag to its location in the pond. Lower slowly to base, adapt bag base to pond shape. Step back and watch your plant grow.